Carter (1946 - 2011)
May 13, 2011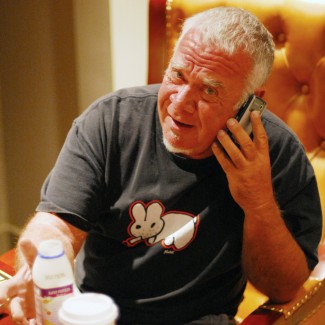 Carter, the legendary A&R man, producer, songwriter, manager, and lifelong fighter for songs with proper bridges (and, where possible, proper nouns) died on May 10 in Palm Springs. He was 65.
Born John S. Carter in East St. Louis, Illinois, he grew up moving around the West and Midwest, the only child of an oilman and an indefatigable Arthur Godfrey fan.
Carter's career began in 1967, when he wrote the lyrics to "Incense And Peppermints" by the Strawberry Alarm Clock – a group he renamed by picking words from song titles on the week's Hot 100 chart. He subsequently became a radio promotion executive for Atlantic Records in San Francisco, where he hired his favorite winos from the Mission District to hand-deliver the Rolling Stones' Exiles On Main Street to local radio programmers.
Recruited to the A&R department of Capitol Records because of his reputation for spotting hits, Carter worked with Bob Seger and Steve Miller during the periods of their commercial breakthroughs; he also signed – and co-wrote and produced – landmark albums for Sammy Hagar, Bob Welch, and The Motels.
His outstanding creative gifts were taste, language, and wit; above all he was a maker of memes, known on the street as hooks. He collaborated fully with artists, but only contributed to a composition when he sensed a failure to surrender its essence. Fixing a chorus, refurbishing a lyric, adding the telling detail (not infrequently a proper noun) or coming up with an album title or visual image that triangulated with sound and singer to create the ineradicable tattoo of a hit: that was Carter's calling.
He was, as reported earlier, a stickler for bridges (typically, the new melodic and lyrical information that comes after verse and chorus have repeated a few times). Formal purity was not what drove him, rather the desire to hear every song matter. Unless it was on the level of a "Louie Louie," Carter believed, any song that wasn't flush enough to demand a bridge probably didn't deserve to handle the dice.
In 1983 he overcame powerful corporate opposition to launch an apparent has-been, Tina Turner. He A&R'd her first Capitol album, Private Dancer, and produced several of its tracks, including the title song. The album launched Turner's years as a global superstar, selling more than 20 million copies.
Carter went on to work at A&M, Atlantic, Chrysalis and Island Records. Yet despite his track record, he often struggled to find colleagues who believed in the artists he loved. When faced with skepticism, Carter leaned on the Ouija and made transformative decisions for fragile careers. He nurtured the songwriting of Tonio K; fought inside battles for David & David and Tori Amos; got Melissa Etheridge a publishing deal with A&M's affiliate when the label refused to let him sign her.
Carter discovered that he was better able to fight for the talents he revered by working independently as an artist manager. His discoveries include Mark Everett, who records as the Eels, and Paula Cole.
Throughout a life in music that spanned more than forty years, one of Carter's achievements stands out for its rarity: he has retained the love and respect of nearly everyone he ever worked with, both on the commercial and creative sides of the business. Take as evidence his professional reunion with Sammy Hagar: after decades of unbroken friendship, more than thirty years after they made "Red" together, Hagar invited Carter to manage him. They created the group Chickenfoot, which continues to thrive, along with Hagar's solo career.
Carter is survived by his wife Christy Carter and his daughter Crosby Carter.
In lieu of flowers, please make a donation to LiveStrong www.livestrong.org
---
Bob Lefsetz wrote a powerful remembrance about Carter that you can read here.