SAMMY HAGAR & THE CIRCLE ARE BRINGING THE ANNUAL WEEK-LONG CABO PARTY TO SOUTHERN CALIFORNIA FROM OCTOBER 1ST TO OCTOBER 9TH!
You are invited to celebrate the last rays of summer on the beach with an epic week of Sammy Hagar & The Circle concerts! First, after experiencing a day of mind-bending aviation feats at the Pacific Airshow, join Sammy & The Circle as they kick off opening night of the first-ever AFTERBURNER MUSIC FESTIVAL on the shores of Huntington Beach. Then grab one of Catalina Express' daily ferries and sail to the majestic shores of Catalina Island for a weekend-long concert party at Sammy's annual BIRTHDAY BASH!
(Sep 7, 2021) Birthday bash single-day tickets onsale Wednesday Sep 8th at 10am PT!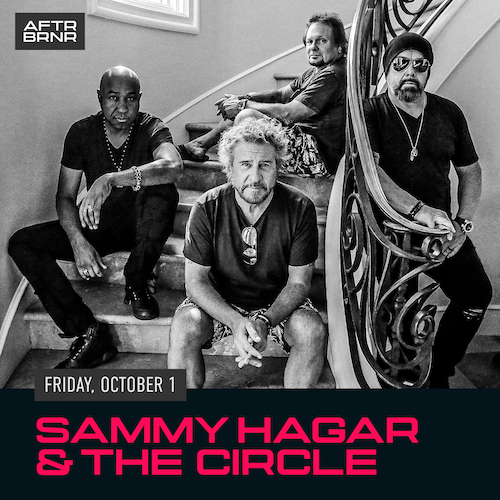 Celebrating the 75th Anniversary of the Blue Angels and the 35th Anniversary of Van Halen's Hit Song "Dreams!"

Afterburner Music Festival is an EPIC two-night festival held right on the sand of one of Southern California's best beaches. The first annual music fest kicks-off just following the Pacific Airshow, featuring the iconic Blue Angels, who famously starred in the music video for Van Halen's hit song "Dreams." You won't want to miss these epic events as they turn up the music and turn on the afterburner!
BIRTHDAY BASH 2021 TICKETS
CATALINA CASINO - AVALON, CA (CATALINA ISLAND)

SINGLE-DAY TICKETS AVAILABLE WEDNESDAY SEPTEMBER 8TH @ 10:00 AM PT
Having completed our pre-registration and random drawing for Redheads, we are now opening up limited single-day tickets to the general public. Tickets are first come, first serve and go on sale at WEDNESDAY SEPTEMBER 8th at 10:00 AM PT.

We encourage you to book your travel and lodging asap, as lodging on the island is limited. Plenty of lodging is available on the mainland with a ferry ride to the island. See resources below for details! When scheduling your trip to the Island, we recommend you arrive with enough time to enjoy the sights, and arrive at the venue 2-3 hours before showtime. Thursday show starts at 5pm, Friday & Saturday starts at 8pm.

VIP TICKET INCLUDES:

Admission to Thursday Acoustic Performance and Q&A with Sammy Hagar & The Circle. Hear the real stories behind the songs! Package also includes:

One bottle of Santo

,

One bottle of Sammy's Beach Bar Rum

,

Drink Voucher

,

Commemorative VIP T-shirt

,

VIP Souvenir Laminate

,

Key Chain

,

Commemorative pin

,

Catalina island discount coupons

.
COVID Protocols For Sammy Hagar's Catalina Island Birthday Bash Shows
The health and safety of the Redheads, our touring family and everyone involved in making these shows happen safely is our top priority. On that note, we've moved the annual Birthday Bash shows from Sammy's home away from home, the intimate Cabo Wabo Cantina in Mexico, to a much larger and open domestic venue, the Catalina Casino in Avalon, CA. However, as the Covid-19 and Delta variant surges throughout the United States, we are following the lead of the major music and live entertainment companies by requiring everyone in attendance be fully vaccinated in order to provide the safest environment possible for all of us.

Like the name of the band, we are all part of a CIRCLE and in times of uncertainty the safety of one is the safety of us all, so our shows will be requiring proof of full COVID-19 vaccination to attend the Birthday Bash Shows on Catalina Island.

"Fully vaccinated" means to attend the Birthday Bash shows all fans must be fully vaccinated against COVID-19 (at least two weeks after final dose) and provide proof of vaccination; i.e. original vaccination card, picture of vaccination card or a digital copy of your COVID-19 vaccination record prior to entering the venue. Matching valid ID must also be shown. Children under the age of 12 will not be admitted. All California residents may request a digital vaccination record at MyVaccineRecord.cdph.ca.gov.

Masking: Pursuant to County of Los Angeles Department of Public Health Order, masks will be required to be worn by all individuals inside the event. Exception is when actively eating or drinking, and must be immediately put back on afterward.

The vaccination and masking policy will be implemented as an open-ended one, with any changes or reversals informed by updates relating to infection rates, transmission data, variant developments, and local and federal regulations.

Resources:

BIRTHDAY BASH LODGING RESOURCES
We strongly encourage staying on the Island for the convenience after the concerts, but you are also welcome to stay on the mainland and use the Catalina Express ferry to travel to and from the island. See the travel section below for important information about ferry schedules.

LODGING ON CATALINA ISLAND
Catalina Island has many types of lodging available, from plush Hotels to quaint Bed & Breakfast Inns, vacation rentals, and even camping! A comprehensive resource for booking your room on Catalina Island is available on the Love Catalina (Catalina Island Tourism Authority) web site.

LODGING ON THE MAINLAND
Nearby Long Beach provides rooms at convenient larger hotel chains that are within walking distance to a vibrant shopping center with plenty of dining and bar options. Long Beach also has the most number of ferries traveling to and from Catalina Island each day. Here is a list of some of the more popular hotels.

San Pedro also provides another option for staying on the mainland. Popular hotels include the DoubleTree by Hilton San Pedro
FERRY TRANSPORTATION TO/FROM CATALINA ISLAND
Catalina Express provides scheduled daily ferry service to Catalina Island. Schedules can be viewed at CatalinaExpress.com. Regular daily schedule tickets can be purchased through their online ticketing system.

In addition, a special late night (11pm) departure is available for those returning to the mainland after the concert on Friday and Saturday evenings. Reservations for these ferries can also be made directly through the Catalina Express web site. Please note: when making your reservations, you make it for both departure and return.
THINGS TO DO
The Catalina Island Company has a wonderful resource of activities and adventures to fill your time. Check out a vast array of options both on land and sea to discover the secrets of the island!

For those staying on the mainland, resources are available at Long Beach and San Pedro visitor centers.