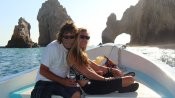 NAME
Helen Johnson
MEMBER SINCE
April 02, 2014
LOCATION
Palm Bay, Florida
BIRTHDAY
January 13
Blog Posts
May 12, 2014
Sammy's Birthday Bash Cabo 2014
Been to Cabo the last 1 1/2 year twice once in October and then the ne June after. We loved it so much we are going back again to celebrate our 30 Anniversary which is on Sammy's birthday! Now I just need to know how to get tickets so we can celebrate our day and Sammys that would be great! Just missed him by a week the last October we went. Please any info is greatly appreciated.
8 |
Read More...
May 12, 2014
Samm's Birthday Bash Cabo 2014
Does anyone have any idea how to get tickets for Sammy's Birthday Bash in Cabo? We booked our trip Oct 11-18th for our 30th Anniversary which is also Oct 13th. Don't want to miss it. If anyone has any information that would be great!
4 |
Read More...