Sam Is King!!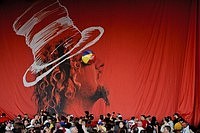 Alright Red Heads... I see so many lucky fans that have had the pleasure of meeting the MAN!!! How did you all land that one.... I been trying FOREVER!!! reply with some cool stories??
Sam... when ya come to North carolina w the Foot... MEET n GREET!!!!!
Im ready brother... and so is my 10 year old RedHead!!!