Do what you LOVE and do it some more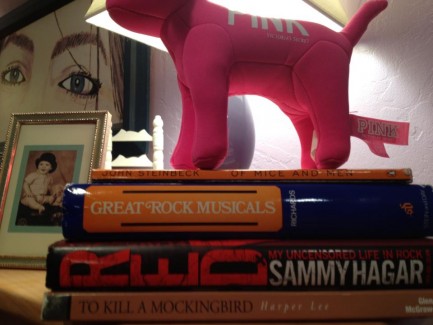 "For in the whirlwind of passion you must acquire and beget a temperance that may give it smoothness." - Shakespeare Hamlet. Comedy would not exist without tragedy. I was not put on this earth to be a drama teacher without having to earn the woes of "outrageous fortunes".
As much as I would like to concentrate solely on what I love to do, write Rock-n-Roll musicals, I have to earn my board and keep by teaching, which in itself, is a whirlwind of passion. I am so busy trying to "Race to the Top" I can find the time to write a script every two years. My UCLA screenwriting professors say if you've written "two shitty screenplays" you can consider yourself a screen writer. Well, I am a screen writer and a playwright (in my spare time).
Getting grades in on time and my classroom ready to go for a week of intense AIMS (Arizona Standardized testing that determines teacher assessment accountability there for $) with my lovely sophomore students (my favorite grade and class by the way, yes I know I am a drama teacher but I love me some sophomore English students I do), cajoling students to get just enough in to pass sometimes, I made it to Baltimore Airport Saturday evening the 6th of Rocktober where OO7 retrieved me and we set off for St. Michaels MEBA Maritime Engineer training where we over ate and I hung out and watched T.V. and other things, while MacGyver-Bond acquired more knowledge. Only to be whisked back to Phoenix to a six hour layover until Mo and I bolted off to the not so sleepy little town south of the border.
I was astounded and amazed at the amount of change, yes, most for the people and economy of Cabo; you've got to thank Sammy for that, but I can't help but miss when there were huts on the beach and just a wood little boat dock. I could easily find Cabo Wabo then. This time it took Mo and I a bit of asking around to find the cantina. The people down town were way less pushy than years ago, it was so commercialized now. I really detested the hard sell condo crap at the airport and my hotel though, and everything was WAY more expensive, wow. But our hotel, Villa Del Pal Mar was beautiful and I met a few Redheads, not many total enthusiasts. I was alone, or might as well have been as my angsty teen was his usual self when I take him to wonderful places in the world, "I want to go home mom." So I was a bit shy, well too shy, I chatted with a few people on the beach. Met up with one guy, Cliff Hanna, the next day at Cabo Wabo to see if we could get Kenny Chesney tickets, to no avail, and figure out how to drop off the scripts. Mo and I staked out the whole Cantina which seems to have changed since ten years ago when I was there with OO7. We purchased our wad at the Cantina gift shop and returned later for the Birthday drop which thanks to Mo and his teen ways of knowing everything, had gotten wet and crumpled, oh well.
I toasted my knee the first day when I walked into the bathwater warm surf and it bowled me over arse-over-tea-kettle. So I was hobbled and in pain for the entire trip. Mo was a room mole I guess lovin the Scooby f-ing Doo and Vice Presidential debate. That was all the English channels. Room service candy for food, we liked the pizza, Diet Coke Light doesn't do it for me, we're both such picky eaters. I managed to rouse the boy/man from his cave by crying on Friday and he finally went on a wave runner with me. I let him drive and it was like driving the boat in Alaska and he actually smiled for a bit. I got to see Land's End and the Arch and force a close chat mother-son on an hour skip through the gorgeous Sea of Cortez. I was grateful to be in paradise but I missed the romance of it without 007, my son was a turkey and I failed at meeting Sammy.
I did, thought, drop off the scripts to the lovely security guard with the Mohawk who was handing out the bracelets on the 11th. A cute barstaff Felipe told me what to do and I didn't get Mohawk's name as his tag was turned, but he assured me, with a gracious and endearing smile, that he would personally deliver the scripts to Sammy himself. Now for the luck, like when I got my script to Three Dog Night. Rock-n-Roll Gods be with me because in Sammy's own words, that I was fortuitous enough to enjoy via live web feed right when I got back from the ever so long plane traveling day yesterday, "Do what you love to do, then do it some more. As long as it's not heroin." And I love writing rock-n-roll musicals so I need to start on a new one while I wait for Sammy's approval and conjure up other ways to make sure he gets to read it. While I continue with the publishing bureaucracy for The Road to Shambala.
I managed to get all my grading done, read one novel , Fifty Shades of Grey, not get sunburned, read part of the musical Hair in my Great Rock Musical book, and only took very few pics and was without my music as I was having phone charger woes. I gotta hit the ground running tomorrow (will be hard as I am still hobbled, got an ace bandage now and had a super hot shower and massage with Aspercreme or the generic version thereof).
Back to Macbeth, theatre competitions, You Can't Take It With You and Grease auditions.
AIMS prep for Sophomores, Race to the Top, start a new musical should it be, CCR, Cheap Trick, KIX, Eagles, Buying My Way into Heaven sequel? I have so many more ideas, but the music really has to do it for me if I write these on spec.
I watched the Vice Presidential debate that was insane. I am insane. I belong in the room.
Take care Redheads, I hope I have acquired and soon can beget a temperance that may give it smoothness and I hope someday a Sammy Hagar musical will be in a book called Great Rock Musicals.