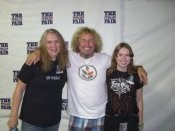 NAME
Stephanie Powell
MEMBER SINCE
June 11, 2010
LOCATION
Kirkland, Washingtom
BIRTHDAY
June 16
Blog Posts
Oct 13, 2011
Happy Birthday Sammy!!!!!!!!!!!
Hope you have a kick ass day. Have fun tonight, wish I could be there to help you celebrate.
|
Read More...
Sep 29, 2011
Cabo Wabo Club Age Limit
Does anyone know what the age limit for the club in Cabo is at night? We want to bring your 19 year old niece down for Spring Break and I want to make sure we can take her to the club in the evenings.
2 |
Read More...
I was there
Four Decades of Rock @ Harrah's Lake Tahoe - South Shore Room - Night #2

Stateline, NV

Puyallup Fair Concert Series

Puyallup, WA