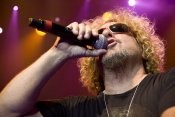 NAME
Sherry Bruce
MEMBER SINCE
June 10, 2010
LOCATION
Carlinville, IL
BIRTHDAY
December 20
Blog Posts
Jun 13, 2011
Detroit here we come....
Cannot wait for Detroit show! Looking forwad to the show!
1 |
Read More...
Apr 19, 2011
Hey Sam.. Need a Keyboard Player for R&R Fantasy Camp!?
I would LOVE to be at your R&R Fantasy Camp! Hubby is not buying into me spending the $$$$ to come.... But, if you felt the need to help out a loyal St. Louis Redhead and get me in I would forever grateful. You would be completing one of the items on my bucket list! What I wouldn't give t get to hang out with and perform with you!! I can't believe you are actually doing this and I'm not able to be there!
1 |
Read More...
I was there
Illinois State Fair

Springfield, Illinois

Hollywood Casino Amphitheatre

Maryland Heights, MO

Hollywood Casino Amphitheater

Maryland Heights, MO