THANK YOU ST. LOUIS!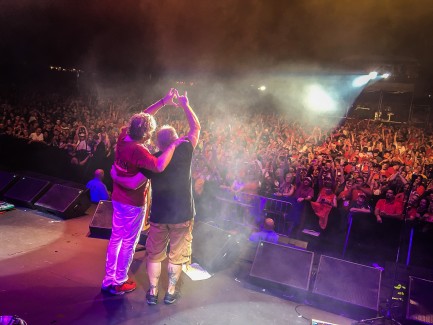 "We turned this place RED!! Thank you to all the Redheads who came to St. Louis! Despite the bad weather the night before everyone still came out!
I was told there were 55,000 people there and that's ironic it would be that number. But, it poured rain all night... The night before and all day up till a couple hours before we played! Cleared up and then started raining again as I was leaving the show. Perfect timing! That's a lot of people showing up in torrential rain's and bad thunderstorm." - Sammy
[Webmaster Note:]
Such an amazing crowd and energy in St. Louis! You Redheads make it happen each and every time - here's to many more - on to the Gateway Arch!! Hope everyone had a great 4th of July!
Check out the article on KMOV and additional photos & videos below. Post yours to the event page!
http://www.kmov.com/story/32369976/sammy-hagar-on-why-its-special-to-perform-in-st-louis
Video of the flight out of Rogers, AR to St. Louis:
Video of the crowd during "Mas Tequila" in St. Louis (Video credit to Aaron Hagar)