Surprise Cabo Show!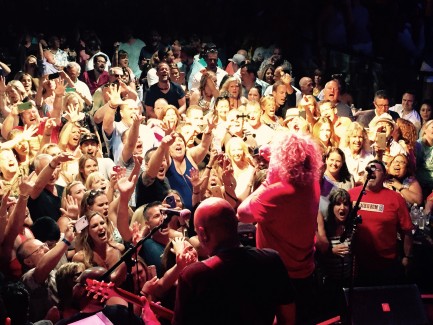 I've played hundreds of last minute shows at the Cantina but last night (Monday) I was so surprised at how many redheads were in town --it was packed!!
Vic and I expected to have a mellow acoustic set for a handful of people, but wow, what a response from those fans that just happened to be in town that night. Cabo Uno was at their best and having my right and left hand man Vic Johnson join us I'm still high from that show loved it, I'm sure everyone in that audience would agree there was a major buzz going on high energy electric like the old days at the Cabo Wabo tonight rivaled the birthday bash. And that's saying something!
Thank you to everyone that was there last night, I loved it and had a blast I'm sure I'll be paying tomorrow ha ha I meant we Will be paying tomorrow.
-Sammy.
Set list to the best of my memory:
Acoustic set
Red voodoo
No worries
One sip
When the sun don't shine
Fall in love again
Winding down.
Electric set.
Mad teq
Rock Candy
55
Why can't this be love
Finish whatcha started
Heavy metal.