Sold out in Indio with George Lopez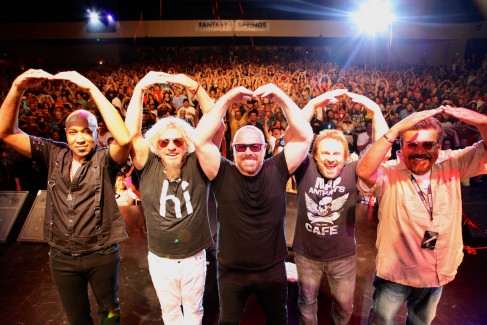 Last night in Indio we had a sold out Circle concert AND George Lopez introduced us, then joined us many times throughout the concert for an unbelievable, crazy, whacked out, high-energy party/concert!
He actually did an encore without us after our third one until he finally got booed off the stage talking politics about Trump.
Hilarious -- one of the funniest guys I've been around in a long time we partied long after the show & I'm paying for it today and I bet Mikey is too! He's threatening to come to Cabo for the bash I told him be careful crossing the border in case Trump gets in office they might not let him back ha ha Ha ha ha
What a great 2 nite run between Tahoe and Indio. - Sammy
P.S. they ran out of Sammys Beach Bar Rum both nights!! That's what I'm talking about!! The redheads had to be happy, I know we were loving The Circle more every show. See you in Cabo.