Sammy joins Train at the Chef's Classic Fundraiser at Bimbo's in SF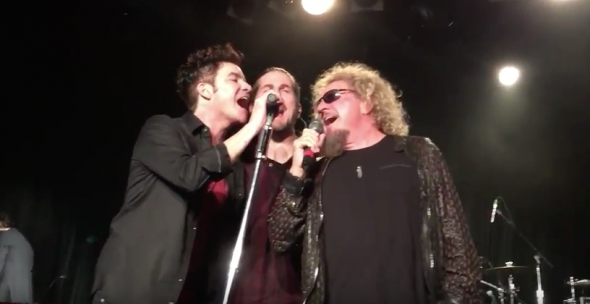 Last night was off the hook fun energy at Bimbo's in SF for the Chef's Classic fundraiser for the James Beard Foundation.
George Lopez was there, along with Tre from Green Day playing drums, the other guy's name is Matt Nathanson, a singer/songwriter who is good friends with Train & they took him on tour from the bay area. I sang "Fall In Love Again" and "Bad Motor Scooter" - it was awesome playing my own songs and a lot of fun playing Train's songs with them.
We wrapped up the night with a smokin' cover of "With a Little Help from My Friends", check out the video!
[Webmaster Note: The Chef's Classic is a fundraiser for the James Beard Foundation. The 1-hour show will air on November 22nd around 4pm EST after the NFL (check your local listings). Tune into to watch the highlights of the 9 hole golf competition at the Olympic Club and a culinary competition and the exclusive contest from last night! More info at: https://www.facebook.com/The-Chefs-Classic-CBS-484525985048888/timeline]