Sammy & The Circle show in Tahoe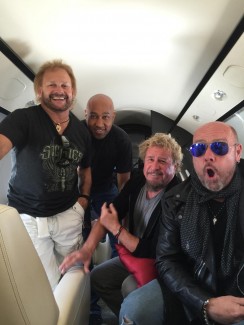 Check out my Instagram story for more pics and videos before it disappears today! https://www.instagram.com/sammyhagar/
Great time at Harrah's in Tahoe. We flew in with the Circle and my man Santo Blanco in 1st class. Once we were in Tahoe we made a stop at a local food bank to donate money to the area - very happy to be giving back to these communities!
At the venue we got settled for soundcheck and met a couple fans in the service elevator coming down for the show. These two maids were thrilled!
Toby Keith showed up last minute! Oh lord, let there be rum...and there was.
The show was killer, huge arena packed full of people we did a ton of songs and Toby kept us going way long. Afterwards we headed to the Tahoe Cantina to top off the night - PHEW! TAHOE YOU ROCK!