ROCK 'N 'ROLL FAIRY TALE - CABO STYLE!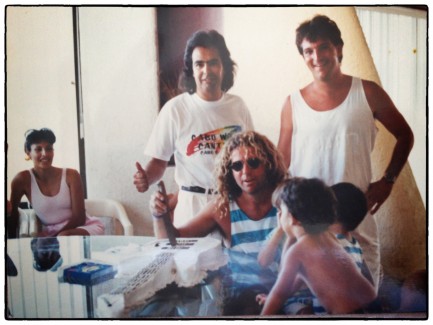 As most Redheads know, I've been going to Cabo for my birthday ever since 1981 and in the late 80s my son Andrew was around 3 or 4 and he used to have play-dates with these two kids in the neighborhood - Christian and Carlos Carenzo. Check out the photos from my 42nd birthday with my partners Marco and Jorge and Andrew and the boys and their mother, Alicia.
So the other night when I jumped up on stage at the Cantina these two guys came on stage to jam. I had no idea that they were the same kids and they not only grew up to be musicians but their band Sister Dass is the band that plays at the Cabo Wabo on off nights! I was blown away to see them up on stage rocking the house. The b&w picture with me and my arms around them is from the other night after we had played together on stage and I'm holding the a copy of the original photo from when they were kids.