Recap from Last Night's "Red Til I'm Dead" Private Screening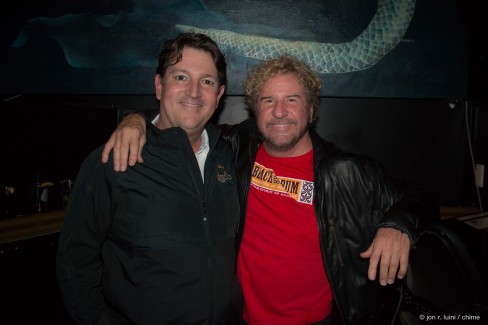 Wow! I had my first look at "Red Til I'm Dead" last night with a little over 200 friends and local Mill Valley business, firemen, police department, and residents at The Sweetwater Music Hall after a little cocktail party at El Paseo. All I can say is that it blew my mind. It's beyond my expectations! And my expectations and other things are always high haha.
For real, the sound was phenomenal. The eclectic group of artists really take you on a trip to say the least. I'm really proud of what the birthday bash has become to the fans, my musician friends, and especially myself. It can be extremely difficult to capture something that special, unique, and unconventional on film but we f*cking did it!! It sounds exactly like it sounds in the middle of the room at the Cabo Wabo. It looks like it's supposed to look like being there. The 4K cameras are so clear you see every bead of sweat. The old footage from past birthdays fits in so well and seeing the same people in line 10 years ago and in the front row for my 70th damn near choked me up.
For those who have never been to a bash this is a must see. For those that have been to many bashes this is a must see. Even if you've been to everyone for 26 years the one thing you've never seen is what goes on up in the dressing room, the little rehearsals, the banter amongst the musicians. That is very special and a first for everyone to see. I don't expect to win an Academy award for this. I don't expect it to be a top grossing film of the year. But I guarantee the Redheads are going to love it to death. That's all that matters to me.
I made this film for all those hundred thousand fans that didn't make the random selection. Now you all can get in to see this fun ass rockin special birthday event. Go have a couple Santo Rita's, some tacos, and let it all hang out. Have a blast my friends and I will definitely be in line at my local theater I want to see this with the Redheads.
Thank you for allowing me to do this!
Red till I'm dead!
- Sammy
Don't forget to get your tickets now at: https://www.fathomevents.com/events/sammy-hagars-birthday-bash
Check out Sammy's Introduction captured on Facebook Live from last night: