The most high energy birthday to date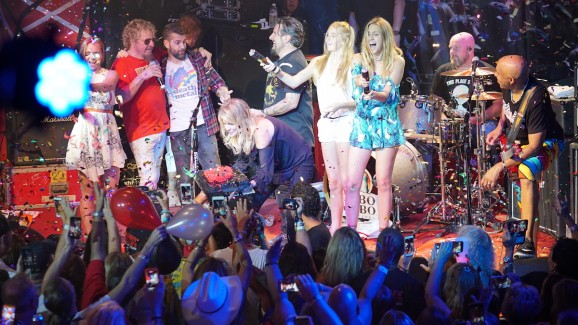 This was the most eclectic, crazy high energy birthday bash to date! I was not feeling well the first two shows but the fans were unbelievably supportive with their sing-alongs. I didn't have to sing a damn word and they were incredible God bless the redheads!
Once I got my voice back on Friday, the energy was out of control and burnt through Saturday night hotter than I've ever felt in my 70 years on this planet. I can't believe what the birthday bash has become beyond my wildest dreams and can confidently say I think it's the best party on the planet. It is a big bad ass red love fest. The "Red til I'm Dead" Fathom Event on December 5th will be amazing (more info at: https://www.fathomevents.com/events/sammy-hagars-birthday-bash)
I would like to thank my special guests: Toby Keith, Vinnie Paul, Jerry Cantrell, Darryl McDaniels, Bob Weir, Kenny Aronoff, Alex Gonzales, Chad Kroeger, and most of all Michael Anthony, Vic Johnson and Jason Bonham a.k.a. The Circle - I love this band!
See you next year!
- Sammy