Hangout On Air!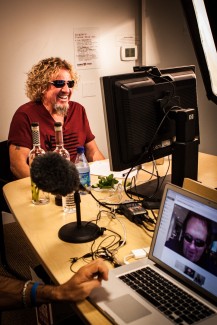 Was last night's Hangout On Air off the hook, or what??!
Mikey was tuned in sharing drinks from his pad down south, the Island in Roseville and the Tahoe Cabo Wabo were packed with fans in attendance, and a lot of great questions coming from the Redheads... c'mon! It was an online party for sure and I'm told you can still go check the video out today. Maybe this techie stuff isn't so bad after all!
[Webmaster Note] If you missed out or just want to see it again, go to: http://bit.ly/sammyhangout
If you don't have your copy of Sammy Hagar & Friends yet, you can pick it up at:
www.sammyandfriends.com to purchase special "Sammy Hagar and Friends" bundles.
Or purchase the album digitally or online by visiting:
iTunes: http://bit.ly/1fchza4
Amazon MP3: http://amzn.to/15RuBUK
Amazon: http://amzn.to/15n5Yvt
If you wish to purchase the album from your local store the following links will help you locate your closest store!
Best Buy: http://bit.ly/16V4Dzn
F.Y.E: http://bit.ly/17XQTDz
Indie Stores: http://bit.ly/1aZZzKS