Fresh Garden to Table Dinner - Sammy's Fresh Tomato Sauce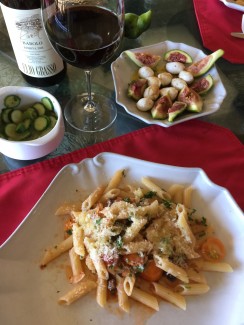 This is a fresh garden recipe I wrote for Daryl Hall's upcoming cookbook he's writing (probably out sometime next year).
This is how you grate fresh tomatoes (see photos below). I just picked these from my garden this morning before they get overripe. I made tomato sauce which can be kept in the refrigerator for up to two weeks or even frozen (just not as good).
Sammy's Fresh Tomato Sauce
Ingredients:
Medium size tomatoes (one per person). In this case 4 tomatoes for four people.

Add one medium Basil leaf fresh per Tomato.

Two medium cloves of garlic -- smashed and chopped finely

One quarter white or yellow

Onion sliced very fine.

Add 1/3 cup of vegetable or chicken stock (note: if you use a Bouillon cube use half and be careful with adding more salt).

Add a dozen or more small perfectly ripe Cherry Tomatoes sliced in half. Plus a couple extra leaves of fresh Basil ripped up with the Cherry Tomatoes then set those aside for finishing off the dish.

Four servings of pasta (not quite a whole bag for four people) of your choice (I like Penne with this dish)
Instructions:
Cut the stem off the tomato and with a coarse cheese grater start grating the tomato flesh into a bowl until all the tomato has come off the skin and skin is left in your hand. Throw that away and just keep the sauce.
Pour a good splash of olive oil in a sauce pan, then add the onions for a minute or so, then the garlic. Keep it on low heat until the onions and garlic almost dissolve, but don't brown, then add your fresh crushed tomatoes and tear up one Basil leaf per Tomato. Add salt and pepper to taste.
Cook that for five minutes at medium low heat then turn it up to medium high & add the chicken stock until it simmers. Turn it down to low and let it simmer for 15-20 minutes make sure it doesn't get too thick. Turn off heat when it reaches your preferred consistency.
You should start boiling your pasta water when you start this whole process so by the time the tomato sauce is ready the pasta should also be ready. I like to put as much as 2 or 3 tablespoons of kosher salt in my water after it starts boiling then add the pasta. I'd say maybe cook the pasta for one minute less than the package recommends. Drain the pasta, but do not rinse it!
Then pour the sauce on to the pasta in a bowl, add the fresh tomatoes, fresh basil, salt and pepper to taste and drizzle with as much extra virgin olive oil as makes you happy!
Finally, garnish with Parmesan cheese serve immediately and you are in business. Have a nice Pinot Grigio or dry white wine from Spain with crusty French bread and a salad -- not only is it healthy but wonderful.
I also had some mozzarella balls and fresh figs from the tree -- add a splash of aged balsamic vinegar and olive oil (so good!). We also had some fresh zucchini which I blanched lightly and seasoned with rock salt, pepper, olive oil, & squeeze a lemon.