Foo Fighters/Dave Grohl Allstar Charity Gig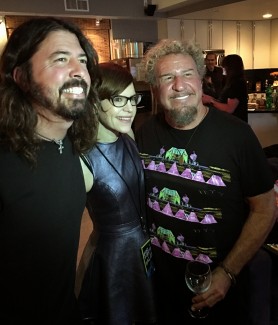 After four of the greatest nights in Cabo Wabo history (!!!), Jason and I flew out of Cabo Saturday afternoon Into LA to meet up with the Foo Fighters charity event. Steve Jones of the Sex Pistols, KISS's Paul Stanley, Perry Farrell, Stewart Copeland, Lisa Loeb and some others joined the Foos for a crazy intimate (& at full volume, may I add) setting of a couple hundred donors for Dave Groll's annual fundraiser for improvements at the local schools.
I sang one of the most up-tempo high energy versions of "I Can't Drive 55" ever. With Dave singing the chorus with me, sooo cool. Then a soulful duet with Dave on "Finish What You Started" classic Van Halen. Then Taylor Hawkins moved on to keyboards (this band is so versatile it's crazy) and Jason Bonham sat down on his drums and did an intense Led Zeppelin "Rock 'n' Roll". WOW!!! The Foos were on fire. What a way to end the bash. I'm having more fun at this time in my life than ever - who would've thought?!? Now I really do want to live to be 100.
- Sammy