The Circle rocks NASCAR at Texas Speedway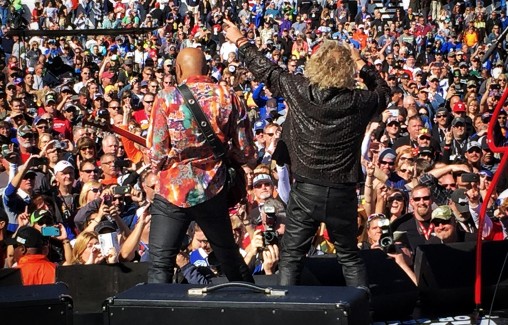 The Circle played at the Texas Motor Speedway Sunday. The police escort we had to get us in and out of that crazy ass traffic of course wanted a picture with Mikey and I because the police love us ha ha Ha ha ha. They can't drive 55 either.
We went on at 11am, ouch it was early, but an amazing race with my buddy Jimmie Johnson winning (I visited him right before the show - good luck charm baby)! Plus, The Circle kicked ass for a 75 minute show. Lots of Texas fans/redheads, more than I expected, almost like a Texas jam!
Also Michael Waltrip and I hung out, talking old times like the TV commercial we did for his team a while back! And Danica Patrick - wow that girl holds her own! Saw lots of old friends, drivers, and even Duck Dynastys' Willie! Hadn't seen him since having a couple shots together at the CMT's, where I introduced and gave Kenny Chesney his award.
So cool! Great folks, I love NASCAR events, big bad ass stuff.