Cinqo de Tahoe de Wabos!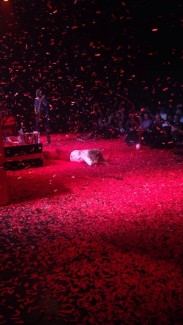 The pics say it all. I lost my voice early on like the beginning of the show ha ha. Not funny. The Redheads saved me again. The show actually was unbelievable – one of my favorites ever because of the fans and the Wabos lifetime dedication and commitment to the party and the music. I'm extremely happy with tonight's show even though it may be in the top three of my worst vocal abilities ever but I must say there were some magical moments that were in the top three best ever as well!!! Love love love them Redheads. Thank you Aaron Hagar thank you Andre Thierry, David, Vic and Mona for sucking it up with me and laying it down 110%.
Because that's what we do thank you. At your service.
Sammy.