Catching the LaFerrari!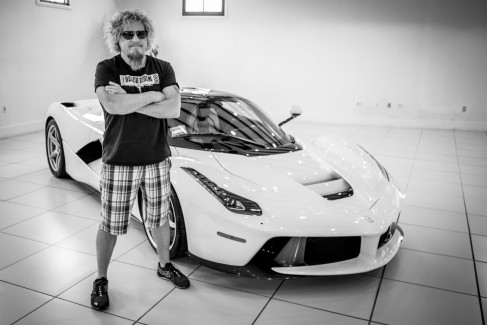 The car looked better than I ever imagined when I saw it. My anticipation to drive it was driving me crazy #ThreeLockbox HaHa. When I finally took possession of the car today after all the red tape involved in a special car like this, Kari and I put 100 miles on it.
And what a crazy fun hundred miles it was!!! The car is much faster than I ever imagined. It sounds like a monster of some kind. It gets way more attention than I want (daaah!). I'm getting used to it slowly before I really try to push I push it to my limit, which is way below the car's limit I'm sure of that after today! I feel really special getting in and out of that car I just want to look at it sometimes. I'm very close to being speechless. After chasing that Ferrari for a year finally taking possession, I'm humbled.
[Webmaster Note]
Check out the feature from ABC News 7 from the 8/19 Evening news!
http://abc7news.com/automotive/after-year-long-wait-sammy-hagar-takes-home-$13-million-custom-ferrari/948731/