"Can't Hang" Release Day!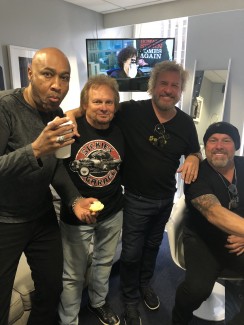 Today is "Can't Hang" release day for the new single from The Circle's new album "Space Between" and we started it off early back on my old friend Howard Stern's show. It was a killer conversation and The Circle dropped a live version of "Can't Hang". After that we did a quick chat with Redheads before the YouTube Premiere of the new music video and then went off to a packed day of promos in NYC which you'll hear about later... thanks for letting me do what I do and joining us in the ride!
Webmaster: Below is a copy of the few questions the band got to answer before the YouTube Premiere. Watch the video here , download/stream the song here, and pre-order the album here.
Q: D B​ "Is there one song on this album that means the most to the band? If so, why?"
A: Sammy: "Without Greed", Vic: "Trust Fund Baby", MA: "Still getting to know the album, so every day is different!"
Q: David Loveless "What do you guys feel has kept the band so tight and playing as well? Being some bands get burned out."
A: Sammy: "We like the same kinds of music." MA: "and we like each other!"
Q: Roxan Money "Where do the ideas for your songs come from. Life experiences ? How does the song process begin with you?"
A: Sammy: "Out of the ether. They just come from out of nowhere." Vic : "Mine come from Sammy!"
Q. Anonymous "Hey Sammy, Michael, Jason & Vic! I'm digging what I'm hearing off this album. Is there a story or common theme throughout the songs on this record? Thanks and keep tearing it up, guys!"
A: Sammy: "This album is about money, greed, enlightenment, and truth. And one man's journey through all that."
Q: Patrick Smith​ "Hey Sam. Would you consider the new album your strongest one to date?"
A: Sammy: "Absolutely. The deepest."
Please enjoy chapter 3 from Space Between!