From Bush To Mug: A Sammy Hagar Home Coffee Experience
After jamming with Steven Tyler, Alice Cooper, Richie Sambora and more for Alice Cooper's Maui Food Bank fundraiser on NYE, I went home and on New Year's morning brewed up my first cuppa from coffee beans from my pineapple planation in Maui!
Fresh picked coffee berries nice and red.
My first batch of coffee beans from my house in Maui- small, but they're going to be good. They were bright red and I've peeled them, now drying them to get the membrane off then I will roast them to make my first cuppa coffee! Enough for approximately 3 cups of coffee Yum Yum happy new year!
First stove roast. Be careful it must roast evenly high heat but shake the F out of it.  Can't burn-- VIP!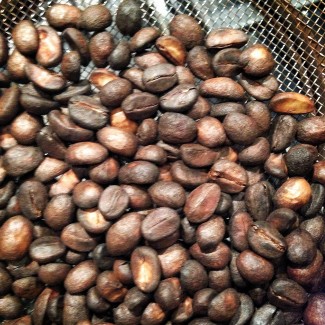 Almost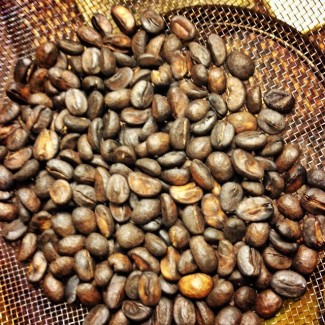 Just about there - see uneven color.  That's not good, you want even color consistent med to dark brown. Keep on med high heat and shake like popcorn.
When it's ready you smell it-- just like when you drive past a roaster! I used the classic popcorn sieve. 40 minutes of shaking, moving on & off fire. I compared the beans with my best bag of Equator coffee beans (my favorite local coffee shop) and couldn't tell the difference! You have to wait 12 to 24 hours after roasting before you grind it and make a cup. The reason you wait is because there is gas that has to escape from the beans or the coffee's not as good!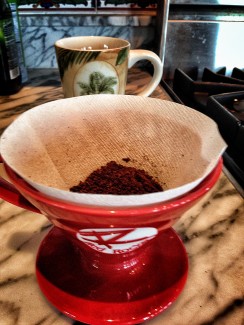 Ground and ready in my favorite one-cup Red Rocker coffee maker!
Ground and ready to rock!
Yum yum yum. My first from bush to mug of coffee! Very nutty, earthy wood with bitter sweet chocolate notes. Very balanced acidity a mild mellow jack. Whew!!! Cockadoodledo.