Blog Posts
Aug 31, 2021
April 8th 2008 radio broadcast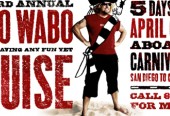 Hey Redheads,
This is a longshot, but does anyone have a recording or mp3 or anything of the concert that Sammy broadcast live on his old cabowaboradio.com from the 3rd Cabo Wabo Cruise in 2008? I was there, but I would love to have a recording of this amazing private show that he and the Wabos did for the cruisers.
It was a bucket list event for me and I would love to have this show's recording as I know it exists somewhere.
http://www.redrocker.com/news/sammy-and-wabos-cantina
Thanks Redheads if anyone knows someone who has this, please hook a brother up!
2 |
Read More...
I was there
Red Rocks Amphitheatre

Morrison, CO

Cabo Wabo Cantina - Birthday Bash!

Cabo Wabo Cantina - Kenny Chesney Special Show!

Cabo San Lucas

Pepsi Center

Denver, Colorado