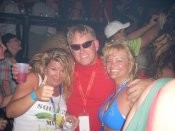 NAME
Richard Borough
MEMBER SINCE
June 11, 2010
LOCATION
Peoria, Arizona
BIRTHDAY
October 25
Blog Posts
Aug 7, 2010
What a GREAT SHOW
My daughters first concert, great folks hang'n behind us, sound was fantastic, Sammy....well he was Sammy!!!!! Need I say more?
As he's said in the past; "You go there once, you'll be there twice" and that applies to his concerts along with trips to Cabo!!!
Thank You!
|
Read More...
Aug 4, 2010
Going to OC to see Sammy tonight
Going to be great, as always AND will be my daughters first concert!!!
Who better than the man, Sammy Hagar!
1 |
Read More...