Rock and Roll Fantasy Camp Winner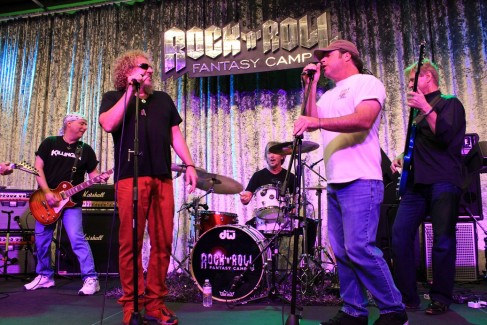 Where do I start? My week as the contest winner for Rock and Roll Fantasy Camp was THE MOST AMAZING WEEK OF MY LIFE! There were so many bad-ass once in a life-time moments—it's all still kind of a blur. Sammy came out to the camp on Friday…getting to sing Zep's Rock 'N Roll on stage with him was unreal! We also got to witness a first-ever…Sammy, Vic and David were joined on stage by the legendary Billy Sheehan on bass and they rocked Montrose's Space Station #5! Then Eddie Trunk hosted a really cool Q & A with Sammy. All of that along with doing live shows at MGM and spending the week rockin' out with DAVID LAUSER and the rest of my band SCARED STIFF...Paul, Brian, Bernt - best group of guys in the world. We met amazing people (all fellow Redheads) at this camp and spent the week rockin' out with giants in the rock world. It was surreal, to say the least.
It was awesome to be able to thank Sammy in person for this honor. I gave it everything I had and at the end of the week, although I was worn out, I wasn't ready to leave. I'm attaching a YouTube link to the song we did with Sammy--IT FRICKIN' ROCKED (Thank you Heather and Paul Fortier for the video)! I'm the singer with Sammy btw. AGAIN--BEST WEEK OF MY LIFE! THANK YOU AGAIN SAMMY AND ALL THE PEOPLE WE MET THAT MADE THIS WEEK A DREAM COME TRUE! See you in Tahoe!! +REGGIE+
http://www.youtube.com/watch?v=UT1iWUETRlA&list=UUYvETMyYoH0mwRmgac71jZA...