Blog Posts
May 22, 2022
If I get chosen...I'm driving 5150 to Cabo
2,278 miles · Light traffic · 1 day 15 hrs
What better way to break a new motor, trans... well... EVERYTHING in but to take it on a cross country , cross border trip.. Just gotta win the tickets now!
|
Read More...
Aug 17, 2020
Virtual Birthday Bash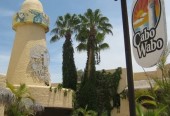 THIS was the year that I was FINALLY going to Cabo for the Birthday Bash...my FIRST vacation in over 6 years. Thanks Covid. As a front line worker that has worked since the beginning of this nonsense...the thought of it helped me through the days, I was sad when I had to get my tickets all refunded. I wonder if Sammy would be up to live streaming a concert from the cantina for a virtual birthday bash?
4 |
Read More...
I was there
RiverEdge Park

Aurora, Illinois

Mystic Lake Casino Hotel

Prior Lake, MN

Wayzata Beach Bash

Wayzata, MN

Lake Tahoe's Outdoor Arena At Harvey's

Stateline, NV

Rock Fest Chippewa Valley

Cadott, WI

Minnesota State Fair

St. Paul, MN