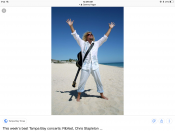 NAME
Will Bumphrey
MEMBER SINCE
March 14, 2011
LOCATION
Washington , Illinois
BIRTHDAY
June 9
Blog Posts
Jul 25, 2021
Have a drink with me!!
Can't wait to see you Sammy in Springfield- Already saw you in Key West this year and have tickets to Vegas in October !! Sammy I need to have a drink with you - I have went everywhere following you for the last 30 years and you never disappoint but God damnitt I need to meet you !!
|
Read More...
Mar 14, 2011
packbeback
St.Pattys Day in St.Louis with Sammy? Beats any day on the job!!!!
|
Read More...