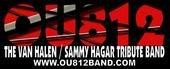 NAME
Angel LLanos
MEMBER SINCE
June 29, 2010
LOCATION
San Diego, Ca
BIRTHDAY
September 11
Blog Posts
Oct 3, 2010
IN THE LOU WITH "OU812" October 15th 2010 ,Tribute To Sammy Hagar/ Van Halen...in ST. LOUIS!!!!
On FRIDAY, OCTOBER 15th:
=OU812-A Tribute to SAMMY HAGAR & VAN HALEN=
is coming to ST LOUIS, MISSOURI for our official Cabo Wabo bash concert!!!!!
It all takes place at SAMMY'S BEACH BAR & GRILL inside
HARRAH'S CASINO in ST LOUIS!!
http://www.harrahsstlouis.com/casinos/harrahs-stlouis/restaurants-dining...
OU812 is a premiere-level tribute show,
bringing the Spirit Of Cabo everwhere we go!
Covering all of Sammy's career,
and a major dose of Van Halen, from both the Hagar and the David Lee Roth eras...
|
Read More...