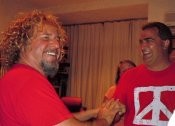 NAME
mike joseph
MEMBER SINCE
June 11, 2010
LOCATION
germantown hills, il
BIRTHDAY
September 25
Blog Posts
Oct 2, 2012
Ready for Birthday Bash!!
I get to sleep 4 more nights in my bed!!! Then its 8 nights at the RIU Palace!! I was lucky enough to get a pair of tix for 10/11 and then my lovely wife got a pair today in the 2nd chance for 10/13!!! I guess she must have made a withdrawal from her Karma bank!!! Look forward to seeing all you Redheads!!!
4 |
Read More...
Oct 20, 2010
Birthday Bash Picture
We just got back from our 1st Birthday Bash 10/12 and 10/13 and can't wait to go back next year. I was wanting to know if any Redheads had a picture of me with Sammy on 10/13. During Space Station Number 5 he came over to the right side of the stage right next to the first booth. I had on a red Chickhead shirt. If someone has a picture with Sammy and I it would make me very happy to have a copy.
I don't know who I owe the thanks to that first posted about them on this site but Gold wristbands do exist and they made for a trip I will never forget!
MJ
|
Read More...
I was there
Illinois State Fair

Springfield, IL

Cabo Wabo Cantina - Birthday Bash!

Cabo Wabo Cantina - Birthday Bash!

Cabo Wabo Cantina - Birthday Bash!

Cabo San Lucas

Cabo Wabo Cantina - Birthday Bash!

Cabo San Lucas

LEFT BANK BOOKS

Saint Louis, MO