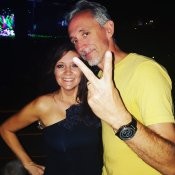 NAME
natalie bryan
MEMBER SINCE
March 08, 2013
LOCATION
cosby, tennessee
BIRTHDAY
January 18
Blog Posts
Aug 11, 2017
MEET & GREET OR SIGNINGS??
Hi everyone, I haven't been able to see Sammy or Michael since the 2004 VH reunion tour and I'm curious. At that show, I had a front row seat that I paid dearly for, I might add, and Sammy and Michael both signed several things for people during the sound-check and at different times during the show- I noticed to folks who had a Sharpie readily available. I was not one of those people :( . Anyway, I recently tried to purchase VIP Experience packages to a show and my session timed out; just my luck, and ended up buying 7th row tickets. Later, more VIP became available for 3rd row.
|
Read More...
Jul 21, 2017
NO NEWS
Hopefully, "no news is good news" really is true right now. Ha! Maybe they're on Cabo time- which could be it's whatever time they feel like it is. Maybe someone had a little too much Tequila last night and they're still sleeping it off. It could happen.
I've wanted to attend this for years! Those pesky kids are grown now haha! Giving it my best shot this year! Good luck to everyone, and PLEASE if you start getting the emails- let the rest of us know so I can go on with my life for the rest of the day ;) .
Keep those fingers crossed!
|
Read More...