Sammy and The Wabos Spark it up at The Joint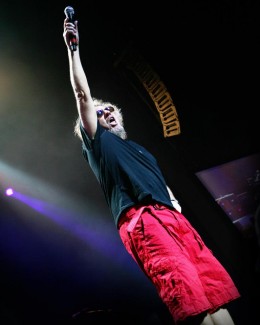 The Joint at Hard Rock Hotel & Casino- January 18, 2013 - Ernie Osborn
In one of his signature songs, "Mas Tequila," Sammy Hagar opens by telling the crowd, "alright, going to tell you a little story, 'bout the way we like to party, take you on a little trip, hit it."
Those words rang true Friday night, January 18, as Sammy Hagar and The Wabos lit up The Joint with a mid-winter fiesta that lived up to every bit of that boast.
The Red Rocker started off the night with a video timeline of his over 40 years of musical amazingness. From birth to the present it seems that Sammy has either had a guitar or mic in his hand and has never slowed down one bit.
Opening with a medley of classic Montrose songs, "Space Station Number 5," "Rock Candy" and "Bad Motor Scooter." These songs have some age on them and yet somehow, every time you hear them from Sammy's lips they come across fresh and as the video interlude stated "timeless." There is no rust on the tunes or the man delivering them. As you sing back each verse and chorus at the top of your lungs you can't help but stop and think to yourself, this guy is 65 years old and killing it better than guys 1/2 his age can.
Sammy jumps, springs and does split jumps in the air like a teen all the while a smile on his face and keeping perfect timing with his three piece back up band The Wabos, the band he put together after his first departure from Van Halen. They feature drummer, David Lauser, guitarist, Vic Johnson and bassist, Mona. Each of them an incredible talent and able to pull off with ease every era of Sammy's music history.
Hagar explains during one of his many indulgences to speak to the crowd, "We are not even on tour, the last time we played a show was at Cabo in October, I am excited. We just decided to come out and play this weekend, that is how it is with us." later saying, "Toby (Keith) called me up and said "I put your shit in my bar." Referring to Sammy's "Beach Bar Rum" and his (Keith's) "I Love This Bar and Grill" which is a huge part of Hard Rock Hotel and Casino Tulsa. "Hey Toby, my stuff isn't shit." he replied back to Keith. He then went on to tell how Toby Keith towers over him and when he speaks Sammy says, "Yes sir." Thus, leading to the almost impromptu show. For that reason alone you have to love this guy, who spends most of his time in the tropics of either Cabo San Lucas or Hawaii, so for him to come to Oklahoma in the winter, tells you he has a special bond with Keith and is also hopelessly devoted to the fans and having a great time onstage.
The set-list is littered with hits of which all the members pick which ones they want to do. It is a round robin of selection as Sammy stated, "I pick one, Mona picks one, Vic picks one, then Dave, then back to me." On this night it was one for the ages. From the Montrose medley they quickly went in the high points of Sammy's solo era "I Can't Drive 55," "There's Only One Way to Rock," "Three Lock Box," are among these as is a dedication to a retired Oklahoma serviceman for "Red," which turned the house into a glowing red beacon of sorts for where the party was happening.
As he moves through some of the mega-hits he had during the Van Hagar years. The band is not trying to be Van Halen, they make each song their own as Sammy provides the stamp on them with incredible vocals, as he stands on top the drum riser delivering "Top of the World" to his crowd interaction and signing of autographs during "Why Can't This Be Love?" you can see by the smile on his face that he is in his element. Jiving and joking with fans, wearing their hats, taking up signs and scribbling a quick signature on them, even missing lyrics at times to sign shirts and old albums. This is simply Sammy being Sammy. He knows where his success is grounded and is quick to take the time to interact with his audience. The band leads into a piano-less version of "Right Now," which Sammy states is, "a new spin on an old classic." It is toned down and stretched out and features some stellar guitar work by Hagar and Johnson. His final song of the VH time is "Finish Whatcha Started," he and Eddie Van Halen's ode to unsatisfied love. It is lean and mean and has the crowd going nuts singing along.
There are no serious moments at a Sammy Hagar show, he is here to party and wants you to check your worries and cares at the door and join right in. Lots of jokes and laughter and stories are shared throughout the night, "I wrote this song in 1978, I gave it to a guy who was a few years younger than me, Rick Springfield. I asked him later, "How is it that I do this song and it just bombs and you do it and it goes to #1?" Rick replied, "I am better looking than you." and with that "I've Done Everything for You" is blazed through and once again keeps the packed concert hall on its feet and singing word for word.
The entire night is loose and fun. Just like a great rock show should be. The Rock and Roll Hall of Famer is ringmaster to a party that just seems to grow and grow with each song, so by the time he gets to "Mas Tequila" there is little doubt that he has accomplished what he has set out to do. You get every pennies worth of your ticket price and then some.
Encores included the soaring "Where Eagles Fly," the bluesy "Little White Lies," and a mashup of "Summertime Blues" and the Beastie Boys anthem, "(You Gotta) Fight for Your Right (To Party)" which served as the perfect topper to an amazing evening. Mona took lead on the Beastie's part of the mashup and completely slayed it. The night ended with the Sammy and The Wabos version of the Toby Keith classic, "I Love This Bar."
As stated before, Hagar is now at retirement age (depending on whose calendar you use) but shows no signs of slowing down anytime soon. The Red Rocker can still bring it and the fans get to reap the rewards.
A huge THANK YOU to Toby Keith for putting the spurs to this show happening and also to Sammy and The Wabos for loving what you do almost as much as you love your fans.