Blog Posts
Jun 30, 2010
I met Sammy once...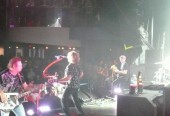 ...but didn't get a chance to take a picture with him :(
When Chickenfoot played the Myth club in Maplewood, MN (the date is in the event section btw), I got chosen to go onstage during the encore... And when Sammy got done with the first set (right before the encore), he walked over to me gave me a hug and said, "thank you, thanks for coming."
And that was it.. my brush with greatness!
*I do wish I got picture with him though
|
Read More...
I was there
Minnesota State Fair

St. Paul, MN

Xcel Energy Center

St. Paul, Minnesota