Hagar shows I've been to not mentioned here!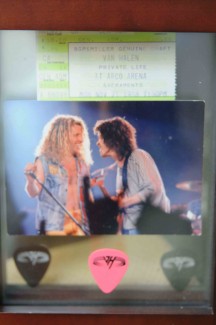 First time I saw Sammy was with Van Halen, November 1988, at Arco Arena in Sacramento, California. When they hit that stage, I riased my fist in the air and screamed as loud as I could. It was one of the BEST shows I ever saw!!
The show started with a bang and ended with a fire during Led Zeppelin's " Rock And Roll. " Eddie just poured himself into his playing. Sammy inspired everyone with " Eagles Fly. " The whole damn show just FLEW.
I have a pic of the concert encased in a small shadow box. The pic shows Sam and Eddie having fun with Sam's " Standin' At The Same Old Crossroads " at the beginning of " Best Of Both Worlds. " It's difficult to find shows that are as good as that particualr VH show. Too many bands seem to cram lots of songs together and never seem to find a pace. Sam and all his groups have done marvelous jobs of giving GREAT performances all the time, every time.
I miss that ole VH show. But seeing that photo helps me to remember how much fun I had. And everytime I hear a SH tune, I can close my eyes and feel like a teen again, feeling those power chords burn through my spirit and in turn, inspiring me to raise my fist and scream " OH YEAH!!! "