NAME
eaglesfly55
MEMBER SINCE
July 17, 2010
LOCATION
Portland, Oregon
BIRTHDAY
August 29
Blog Posts
Jan 29, 2011
Uno Momento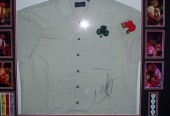 I got this shirt signed by Sammy during the oct 12th 2010 show
at the Cabo Wabo. What an awesome momento of my trip to Cabo thanks
Sammy see ya in Oct..
|
Read More...
Oct 16, 2010
boxing shirt
So I won this Sammy Hagar boxing shirt at the beach party at Tobasco's
this year. It has some boxing logos and artwork signed by Jan Hagar.
Can anyone tell me about this shirt and who is Jan Hagar. Sammy wore
the shirt during the show on 10/12. He seemed to know exactly what it was and put it on right away. fill me in guys..
2 |
Read More...
I was there
Harrahs South Shore Room

Stateline, NV

Harrah's Lake Tahoe

Stateline, NV