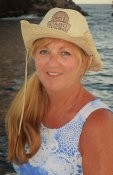 NAME
Cindi Wirick
MEMBER SINCE
July 04, 2017
LOCATION
Walkersville, Maryland
BIRTHDAY
July 9
Blog Posts
Feb 22, 2019
Great fans
Redheads are the best! Met so many fabulous people in Cabo 2017. Looking forward to hanging out with some of them at the STL show this May.
|
Read More...
Jul 14, 2017
Birthday Bash Hopeful
Attending your Birthday Bash is on my Bucket List. Hope I win the opportunity to purchase a ticket. Entered the drawing 7/12, then edited and submitted again so hoping it didn't think I entered twice. Don't want to get disqualified. I always check your concert schedule and never see you have a show in my area, so haven't seen you live for a long time. Hoping to see you in Cabo! Been a fan for many years. Love your energy.
|
Read More...
I was there
Lakefront Music Fest

Prior Lake, MN

Cabo Wabo Cantina - Birthday Bash! Night 2

Cabo San Lucas

Cabo Wabo Cantina - Birthday Bash FREE SHOW

Cabo San Lucas

Hollywood Casino Amphitheatre

Maryland Heights, MO

Hard Rock Live

Hollywood, FL