NAME
Bobby Deskins
MEMBER SINCE
January 05, 2012
LOCATION
St Louis, MO
BIRTHDAY
November 6
Blog Posts
Feb 5, 2013
St. Louis Cinco de Mayo RED-A Tribute to Sammy show!
Hello RedHeads. Well, my St. Louis based Sammy Hagar tribute band RED has 3 shows under our belts to date. We had a blast on Sammy's birthday in 2012 when we hosted the 1st annual Sammy Hagar Birthday bash in Cabo St Louis. We really love Sammy's music and we try to do him justice with our show. If you live in St Louis or want to make a road trip here, We are hosting a Hagar Cinco de Mayo party on Saturday, May 4th at the legendary House of Rock in South St Louis. This is a small local venue that every musican who is a musican in St Louis has performed in.
1 |
Read More...
Jan 5, 2012
Come See Us!!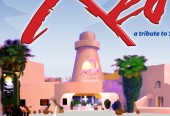 Hello to all ReadHeads. If you are like me, Sammy's musice has influenced you also. I have loved to listen to and play all of his musice since the 80's. I've been a fan since I bought my first Montrose album!! Anyhow, I found a few friends that feel the same and we decided to put together a Tribute band to the Red Rocker himself, Sammy Hagar. We call it RED - A Tribute to Sammy. We will be bringing it to the stage by summer of 2012 in the St Louis area. If you know anything about Sammy, you know this is one of his favorite places to perform. So keep your ears and eyes open for us.
1 |
Read More...
I was there
Cinco de Mayo in Tahoe - Night #2 @ Harrah's South Shore Room

Stateline, NV

Cinco de Mayo in Tahoe - Night #1 @ Harrah's South Shore Room

Stateline, NV

Lake Tahoe Outdoor Arena at Harveys

Stateline, Nevada