The Red Week - New Buffalo, MI., Springfield, IL., & St. Louis, MO. 3 shows - 4 Nights!!!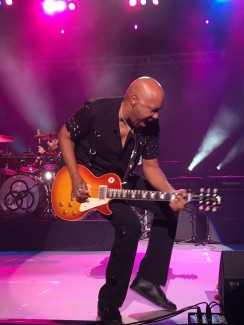 After this last week, I am exhausted. Drove to the Four Winds Casino in New Buffalo, MI. on Wednesday for the show. Nice small venue. Sammy said it reminded him of Cabo.
Next day drove to Springfield, IL. for the show at the State Fair on Friday. Me and Sara (Dr. Cabo) got in line at 5:30 am for access to the show. 90° heat with plenty of sunshine made for a long day. After the show, drove to our hotel in St. Louis for the Saturday show.
Drove home that night back to Minooka, IL. My ass was dragging on Sunday!
Next up, Cabo!