Blog Posts
Oct 23, 2013
Red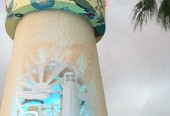 Not sure how many people have read Sammy's book "Red" but I can say that I have and it's a great book, with great life-lessons.
The drive and determination Hagar displayed throughout his life is very inspirational, especially for todays younger crowd, and even people going through rough times.
I have a 16 year old son who will be reading this book next.
I love that through all the BS with Van Halen, that Sammy comes out on top and continues to really show what is important to him, his music!
|
Read More...
Oct 18, 2013
B-Day Bash Night 3
Finally got to Cabo to see Sammy. Have been wanting to do this trip for years. This year I finally entered the drawing and won 2 tickets for the 3rd show. Now that my luck has changed, I am going to start playing Mega Millions!! LOL
Anyway, the first time I saw Sammy was March 31, 1979 in Milwaukee, WI. Sammy opened for Boston at the Mecca Arena. Loved the show.
Since then I have seen him play with VH in Milwaukee at the Summer Fest Amphitheater and most recently in Toronto Canada and the Molson Canadian Amphitheater on August 27th. Kim Mitchell opened that show.
1 |
Read More...