Blog Posts
Jun 21, 2015
50,000 Watts of Rock and Roll Power at The Hard Rock Live!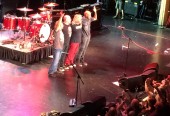 Dear Sammy, Jason, Michael and Vic:
Let me please just say THANK YOU, for one of the most awesome rock and roll shows I've ever had the pleasure of seeing and enjoying Live.
There a back story to me posting this that I hope is meaningful to you.
I was attending a typical corporate trade show in Orlando (Zzzzzzzz) and normally choose to "sit out" the typical corporate "show" as they are normally bland and boring..// but this year my buddy said to me - "hey - you hear Crestron has Sammy Hagar, Bonham, Anthony, Johnson playing at the Hard Rock"?
|
Read More...