This is why.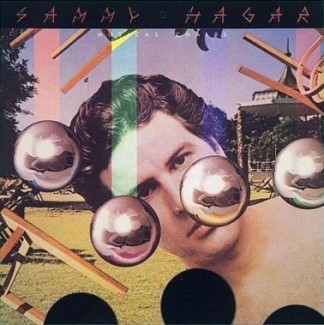 Now, I know to most of you around here I am just "preaching to the choir" so to speak, but you know how I like to share.
So I just got done listening to this album. This is my second early Sammy album I have procured in the last few weeks (thanks to the recommendation of a very knowledgeable long time RedHead!!♥), the previous album being "Street Machine". I know there are plenty of RedHeads around here who have been fans WAY longer than me, and I know there are some who are mainly fans of the ICD55/VH/Cabo/tequila Sammy, and everyone in between. When I started really getting into Sammy's music a few months ago, my husband asks me "Why all the Sammy Hagar all of a sudden?" My answer was "Because there is SO much more to him than just ICD55, Van Halen and tequila!!" Granted, those 3 things are what he's best known for and what draws many fans, especially those like myself whose generation wasn't even around for the early stuff. But if you limit yourself to his more popular/mainstream stuff, that's exactly what you're doing, limiting yourself. Sammy is such the complete yin and yang when it comes to his music (or ANY music for that matter), very much so on "Musical Chairs". I was rockin' OUT to "Reckless" with his signature high voltage rock scream, and then the very next track is "Try (Try to Fall In Love)"....wow, I listened to it twice. Unbelieveable the voice he has, just blows my mind every time. I love turning on my SammyVanMontroseChickenfootHagar playlist as I like to call it, and just experiencing the whole range of his catalog. It amazes me every time that I am listening to the SAME man singing all of this stuff, and that he just never stopped churning out such amazing music non-stop throughtout every decade. I'm like a born again RedHead or something, and just wanna go around town knocking on doors and handing out pamphlets to people asking "Have you found Sammy Hagar yet? No? Well, allow me to spend a few minutes with you and let you know how he can change your life!!" Maybe I miss being a musician, I don't know, but I have not been so fascinated by any artist like Sammy that I can ever recall. 6 months ago I probably couldn't have named more than about 10 songs by him that I knew very well, and I bet 8 of those would have been Van Halen tunes. Now I have accumulated a 114 song playlist that is growing weekly, and I am traveling across the country to see him play. So, for anyone who was not aware that Sammy made some seriously awesome music prior to about 1984...here you go. Thanks for letting me gush. As always...
Peace, ♥ and R&R!!!
Stef