Inspi(Red) - my birthday gift to Sammy♥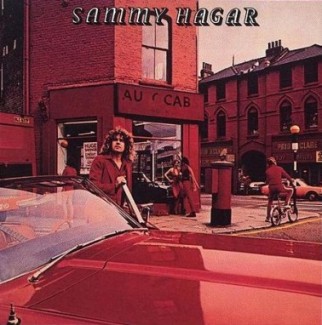 Every time I add to my ever growing collection of Sammy's music, I like to post a little something when I am really impressed by my latest acquisition. I figured, what better time to do so than on the eve of 10/13. For anyone who is growing tired of my blogs or record reviews around here, feel free to move on, this one may be a tad lengthy. I'm sure this blog will fast get buried under all of the Cabo hoopla and that's cool, but I write these blogs for myself, and my close RedHead pals who I know appreciate what I put forth here for everyone.
Even if I could afford it, I really don't know what I'd get Sammy for his birthday. What could I possibly get him that he doesn't already have? So I figured, what better gift than another healthy dose of my heartfelt gratitude. Let me just say to anyone who is not familiar with my writings around here, I am not looking for anything. I don't get paid for this, I don't want fame, I write what I feel, it's sincere, and it's truthful. I am not trying to gush, just sharing.
I just finished listening to "Sammy Hagar", or we can just call it the "Red" album as some do. It's the latest in my collection, which I am happy to say has been featuring many of Sammy's early records, the bulk of which to me is still "new". You know, something happened today while I was listening to it at work...I know it's happened before but today for some reason it made me stop and take notice. During "The Pits", as I was listening, the lyrics made me smile. It's like a reflex. I stopped the work I was doing and felt a huge silly grin on my face. And I don't try to hide it. I have had to hold back tears before upon hearing some of his songs for the first time. Sometime they come again while I hear those same songs, and that's okay too. It just never ceases to amaze me how someone's career can be so extensive and never get stale. If you get bored listening to Sammy's catalog then it's your own fault. My Sammy/VH/CF/HSAS/Montrose playlist is now up to 205 tracks. I love putting it on shuffle, and hearing tracks back to back that to the untrained ear would sound like two totally different people. And not even just because those tracks span so many styles and decades. But becasue Sammy does something that he does not like to hear (sorry Sammy I gotta say it!!)...he puts his full emotion into everything he sings. I love thinking of him talking about how hearing himself on playback "freaks him out". I can understand that. I guess when you put yourself out there like that it can be a little scary hearing it from the other side. But not to me, not to all of us who can feel what you put out there and can take it with us. I can honestly say that no other artists' music has ever had that effect on me, and my only regret is that this didn't happen for me a little sooner. That is what I am grateful for. That you never changed that style for anyone, for any reason. You stayed true. You define "genuine". That's a rare phenomenon not just in the entertainment biz but in life. I can't tolerate fake people, or sell-outs. I have no time for it. I put my true self out there every day and expect the same in return. I have always been a very confident person, but getting into your music Sammy has inspired me to be even more energetic about being who I am, about being me. I don't really know a better way to put it. I hope that the people I interact with every day can feed off of that postive energy, and use it to better themselves as well.
So on this, the eve of your birthday, let me give you my gift of gratitude and honest appreciation for what you do and the type of person you are. Thank you for making others feel like I do and helpig us all find one another on this crazy planet and become friends by way of your art. I don't know if your own eyes will ever read this, but I always carry a little torch deep down that you check out what us RedHeads have to say every so often. Here's hoping this gets to you, and hoping anyone who took the time to read this can get the same motivation, inspiration, and joy that I do from what you have given us.
Peace, love, and HAPPY TEN 13 SAMMY!! Looking for ward to many, MANY more!!
Stef♥