SF Chronicle - Acoustic-4-A-Cure review: Players' stature barely fit in room
May 19, 2014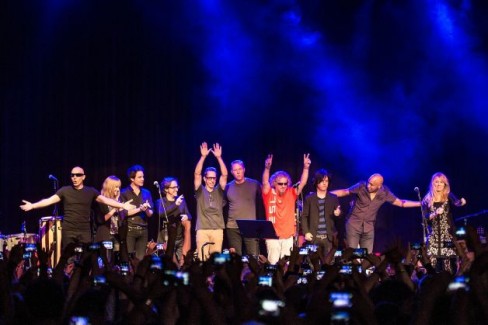 SF Chronicle - May 16, 2014
"Acoustic-4-A-Cure review: Players' stature barely fit in room"
When the lineup was announced for Sammy Hagar's inaugural Acoustic-4-A-Cure benefit concert - Metallica's James Hetfield, Green Day's Billie Joe Armstrong, Train's Patrick Monahan, Heart's Nancy Wilson and local guitar god Joe Satriani - it was hard to imagine how they were going to fit all that ego into one room. Even if that room happened to be the Fillmore.
But from the moment the doors opened at the venue on Thursday for the sold-out show, proceeds from which will support cancer research at UCSF Benioff Children's Hospital, more than anything else it felt like a great big party among friends.
There were plenty of bear hugs, self-deprecating jokes and flubbed notes onstage, as the mighty multiplatinum rockers gamely tried to downsize their stadium-size sounds for the evening's intimate, acoustic format.