Saylor's South of the Border!
October 24, 2006
South of the Border, Attention: Red Heads,
There is a new place to party! My good buddy Sean Saylor, a big Cabo Wabo fan has opened a new Mexican restaurant called Saylor's South of the Border and it is located at 2009 Bridgeway in Sausalito, CA. Not only does he feature Wabo Shrimp but the menu has lots of CaboWabo drinks including a nice Waborita. And best of all he has a large party room and it can be rented out for private parties and they are calling this room appropriately enough the Cabo Wabo Party Room. As we speak bling, bling, and I are going thru a bunch of memorabilia to decorate the room. One more place to party! Are we having any fun yet! You can ask for Sonja to book the room at (415) 332-1512.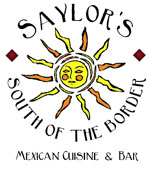 www.saylorssouth.com