SAMMY'S 71ST BIRTHDAY BASH CONFIRMED FOR OCTOBER 9TH, 11TH, & 13TH.
June 06, 2018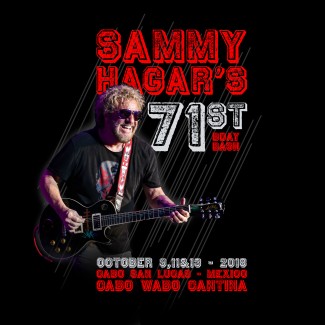 UPDATED: 7/24/18
Final on sale for remaining tickets happens Friday, July 27th at 10AM PT.
Night 1 (Oct. 9th) Ticket Link: https://www.eventbrite.com/e/night-1-sammy-hagar-birthday-bash-tickets-46916184571
Night 2 (Oct. 11th) Ticket Link: https://www.eventbrite.com/e/night-2-sammy-hagar-birthday-bash-tickets-46946262535
Night 3 (Oct. 13th) Ticket Link: https://www.eventbrite.com/e/night-3-sammy-hagar-birthday-bash-tickets-46946277580
---
It's what you have all been waiting for! The 2018 Birthday Bash ticket registration for the random drawing opens for 5 days only starting THIS MONDAY, JUNE 11th at 10am PDT. The registration link will be posted on Redrocker.com as well as Sammy's Facebook and Twitter.
The Registration period for the random drawing lasts for a week.Access to purchase tickets will be similar to the last few years: it will be decided by a random selection. Taking into consideration all of the feedback we have been hearing from you and the high demand and low availability, this is what has been determined to give fans the fairest opportunity for tickets. The ticket limit is 2 per night, per household (billing address) and each show's drawing will be performed independently. This means a registration that requests tickets for all three nights has equal chance of being selected in each drawing.
Winner's will be selected randomly and informed via email on: Monday, June 18th
Those selected will be emailed ticket links to complete the purchase. NO TICKET TRANSFERS ARE ALLOWED. All submissions will be verified and multiple entries are subject to having all registrations cancelled. Valid photo ID of the purchaser will be required to be shown at the venue. Payment will need to be completed by Monday July 2nd, otherwise tickets will be forfeited.
Any tickets not purchased by this deadline will be returned into a final pool of tickets that will be available in a traditional first-come, first served, public on-sale date to be announced.
Here are direct links to each show's event page:
Night 1 (Oct 9), Night 2 (Oct 11), & Night 3 (Oct 13)
Questions? Contact us at: info@redrocker.com
Ticket cost: $71/ea ($1 x Sammy's age!)
Can't wait to see you in Cabo!