Sammy Hagar & The Circle Share "Affirmation" Official Video Off #4 Charting Album Space Between
May 28, 2019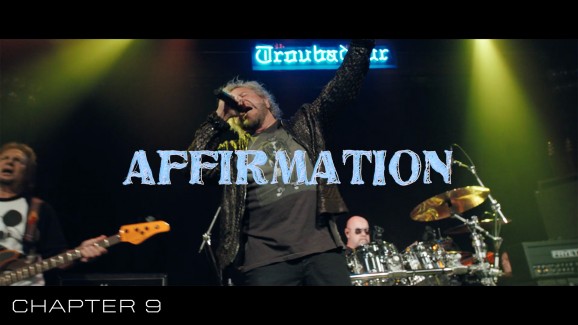 DOWNLOAD / STREAM / WATCH "AFFIRMATION" HERE
CRITICAL PRAISE
"Affirmation has a driving mosaic... The four band members lock together brilliantly, their talent shining through whatever the occasion."– Classic Rock Magazine (UK)
"Hard rock tethered to the blues." –The Associated Press
"Sammy Hagar has always pursued a degree of "enlightenment" with his music... But on Space Between, the new concept album by his all-star band The Circle, Hagar is going deeper." – Billboard
------
LOS ANGELES – May 29, 2019 –Sammy Hagar & The Circle have released the official music video for "Affirmation," off their album Space Between which was released May 10 via BMG and debuted on the US charts at #4.
Watch it HERE and buy the album HERE
The video for "Affirmation" was extracted from the album-length film, titled Space Between: The Affirmation. Directed by ZZ Satriani, the film illuminates the 10 songs/chapters of the Hagar-penned concept album touching on the themes of money, greed, enlightenment and truth.
Sammy Hagar remarked about the song, "I love it when a good groove, a good melody and a good lyric come together and actually say something in a simple, uncomplicated way. It's felt like the LP's sleeper hit from day one because it sounds like it's been around for a long time."
The band, comprised of Rock & Roll Hall of Fame inductees Sammy Hagar and bassist Michael Anthony, drummer Jason Bonham and guitarist Vic Johnson, kicked off the second leg of their 23-city North American on May 17 and will continue to span the globe through November 2019. Visit RedRocker.com for complete details. Tour itinerary is listed at http://www.redrocker.com/events/