SAMMY & FRIENDS PRE-SALE IS ON!
August 01, 2013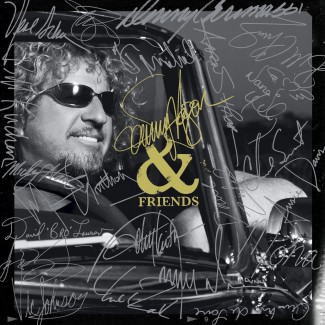 We're happy to announce that the PRE-ORDER is now available! All is revealed and Sammy has a special video message for you at http://www.sammyandfriends.com/
There are a number of great packages that cover the regular CD, the Deluxe version with the DVD and bonus track (Space Station #5 live from the Ronnie Montrose Tribute show) and ALL PRE-ORDERS MADE THROUGH SAMMY'S STORE (or iTunes) will get an IMMEDIATE DOWNLOAD of the first single "KNOCKDOWN DRAGOUT" featuring Kid Rock, Joe Satriani and Denny Carmassi! Other packages combine the album with a special T-Shirt so you can take to the streets in true Redhead style!
We also have another extra special gift JUST FOR THE PRE-SALE PERIOD--- ALL PRE-ORDERS MADE THROUGH SAMMY'S STORE will also receive (delivered on album release date) the live bonus track "Bad Motor Scooter", also from the Montrose Tribute show.
We're also very excited to announce an exclusive LIMITED EDITION GOLD PACKAGE that will only have 100 items available. This package features a frame-ready, fine-art quality 11x14 B&W Giclee print! Sammy will hand sign each in a gold pen and each will also be hand numbered. Also included in the package is the Deluxe CD/DVD combo, an exclusive t-shirt and the deluxe digital album on release date.
There are 6 package deals in total to choose from and you won't want to miss out on all of the pre-order giveaways, so visit http://www.sammyandfriends.com/ to get your order in!