Rock & Roll Road Trip VIEWING PARTY ALERT
March 04, 2017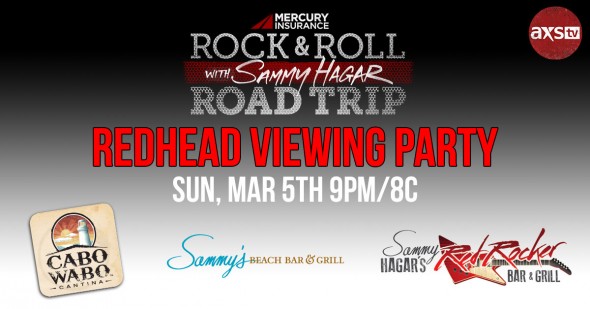 #RockAndRollRoadTrip VIEWING PARTY ALERT! Sammy's restaurants will be showing tomorrow night's premiere of Rock & Roll Road Trip and needs Redheads to come out and make it a party!
All of the Cabo Wabo Cantinas (Cabo, Vegas, Hollywood, Tahoe) will be running a drink/taco special and the Sammy's Beach Bar & Grill locations in Maui, Las Vegas and Cleveland, plus the Sammy's Red Rocker Bar & Grill in West Memphis will also be going strong with viewing parties.
Come watch the first episode and party with fellow #Redheads as Sammy takes you onstage and backstage at last year's Acoustic-4-A-Cure concert with James Hetfield, Melissa Etheridge, John Mayer, Joe Satriani, Tommy Lee, Pat Monahan and more! The show starts at 9pm/8c, come early to get your buzz on. Share and tag your photos #RockAndRollRoadTrip #RedheadsViewingParty @sammyhagar @AXSTV and we'll re-share our favorites!