JERRY CANTRELL, VINNIE PAUL Jam With SAMMY HAGAR At His Annual Birthday Bash
October 13, 2016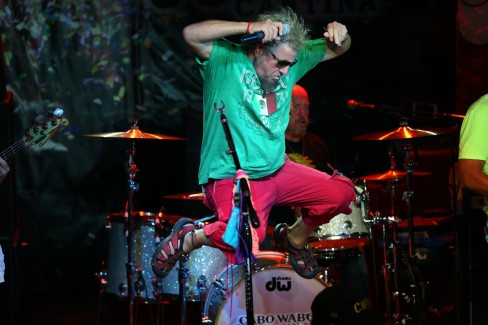 "Legendary musicians — including Jerry Cantrell (ALICE IN CHAINS), Vinnie Paul Abbott (PANTERA, HELLYEAH) and THE CIRCLE's Michael Anthony, Jason Bonham and Vic Johnson — as well as boxing legend Oscar De La Hoya joined forces with Sammy Hagar at his mecca in Mexico, the Cabo Wabo Cantina, to rock night three of his annual birthday bash.
Fans were treated to a setlist which included hits from Sammy's solo years, LED ZEPPELIN, ALICE IN CHAINS, VAN HALEN and even a searing rendition of THE BEATLES' "Helter Skelter" featuring Hagar, Cantrell, Bonham, Anthony and Johnson.
In addition, in the week leading up to the Bash, as the line of Redheads grew to circle the block outside the club — with fans braving 90-plus-degree heat in the hopes of landing a front-row position, many became the first to sample Santo before it hits the market.
Hagar's birthday bash concludes on his 69th birthday, Thursday, October 13, with an expected lineup so big, they're keeping it a surprise for fans."
Read more at http://www.blabbermouth.net/news/jerry-cantrell-vinnie-paul-jam-with-sammy-hagar-at-his-annual-birthday-bash-photos/#fkJwOAqezLWvCdiS.99