'Crazy Times' OUT NOW! Plus listen to new single "Father Time"
September 29, 2022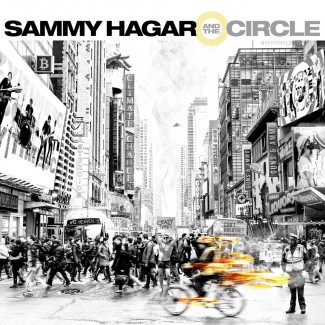 Sammy Hagar & The Circle's NEW album 'Crazy Times' is OUT NOW! Listen to the new single, "Father Time" and hear the album in its entirety for the first time ever. LISTEN HERE.
"Finally here it is. I can't wait for everyone to hear this record. I can't remember being this excited about a record coming out since '5150' or the first Chickenfoot record. Please listen first time, beginning to end while studying the cover art. I hope you feel & hear the pure Heart, Mind, Body & Soul of this record. it's truly a 3 lock box pulled from the deep of these crazy times, that we all have found ourselves in." -Sammy
Today, Rock & Roll Hall of Fame®-inducted, Grammy award-winning singer and songwriter Sammy Hagar releases his highly anticipated new album, "Crazy Times," with his Billboard chart-topping group, The Circle: featuring fellow Hall of Famer and longtime bassist Michael Anthony, Grammy-winning drummer Jason Bonham and guitar virtuoso Vic Johnson. Produced by eight-time Grammy-winning producer Dave Cobb, the 10-track album is out today, Friday, Sept. 30, via UMe on CD and on all digital and streaming platforms.
Recorded at Nashville's historic RCA Studio A, "Crazy Times" is Hagar's 27th studio album and his second recorded with The Circle. Cobb, who grew up obsessively listening to Hagar, set out to create "the definitive Sammy Hagar record" and wound up co-writing three songs on the album and performing with the band on every track in the process.
Critical praise for the album:
"(Dave) Cobb finally got to team up with his hero this year when he produced Sammy Hagar and the Circle's new LP Crazy Times... The songs touch on everything from corporate greed to the wisdom of old age, but the pandemic is the common thread that ties it all together." – Rolling Stone
"…one of his most satisfying albums in years." – Ultimate Classic Rock
"Crazy Times shows Hagar's maturation, finally achieved in his mid-70s, and that he's improving with age."
– Riff Magazine
"Front and center we have Hagar's voice, which has always been reference quality as to what you'd want from a hard-rock frontman – all syrup and gravel and soul. Stick your best pair of headphones on and listen… you can hear that this choice is money well spent. – Guitar World
It's (Jason) Bonham who kicks off this album driving the lumbering pace of "Slow Drain," on which Hagar bemoans the state of things, "Watching the world go down." There's melody there, but it's the sheer muscle of the musicians' playing – especially Bonham's – that make this, and most of the 10 songs here, stand out. – Riff Magazine
"Sammy Hagar lays into bad actors and bad mojo on his new album Crazy Times." – Rolling Stone
The album includes 10 songs, nine of which Hagar wrote or cowrote, along with the notable cover, "Pump It Up," a 1978 song by Elvis Costello and the Attractions. While many of the songs were written post-pandemic, one of the more reflective songs on the record, "Father Time," was written in 2017 by Hagar when he turned 70 years old. Hagar wrote it while reminiscing on the ups-and-downs of his life. "I turned on my cell phone and it just recorded itself," Hagar told Rolling Stone. "I had all the lyrics and I only stopped once or twice. I listened to it a couple days later, and it broke me down." A video of "Father Time" will be released before Hagar's 75th birthday on Thursday, Oct. 13.
CRAZY TIMES TRACKLIST
1. INTRO: THE BEGINNING OF THE END
2. SLOW DRAIN
3. FEED YOUR HEAD
4. PUMP IT UP
5. BE STILL
6. YOU GET WHAT YOU PAY FOR
7. CRAZY TIMES
8. FUNKY FENG SHUI
9. FATHER TIME
10. CHILDHOOD'S END
Bonus Tracks (available on the Target deluxe edition CD and via streaming platforms)
11. 2120
12. Father Time - Acoustic